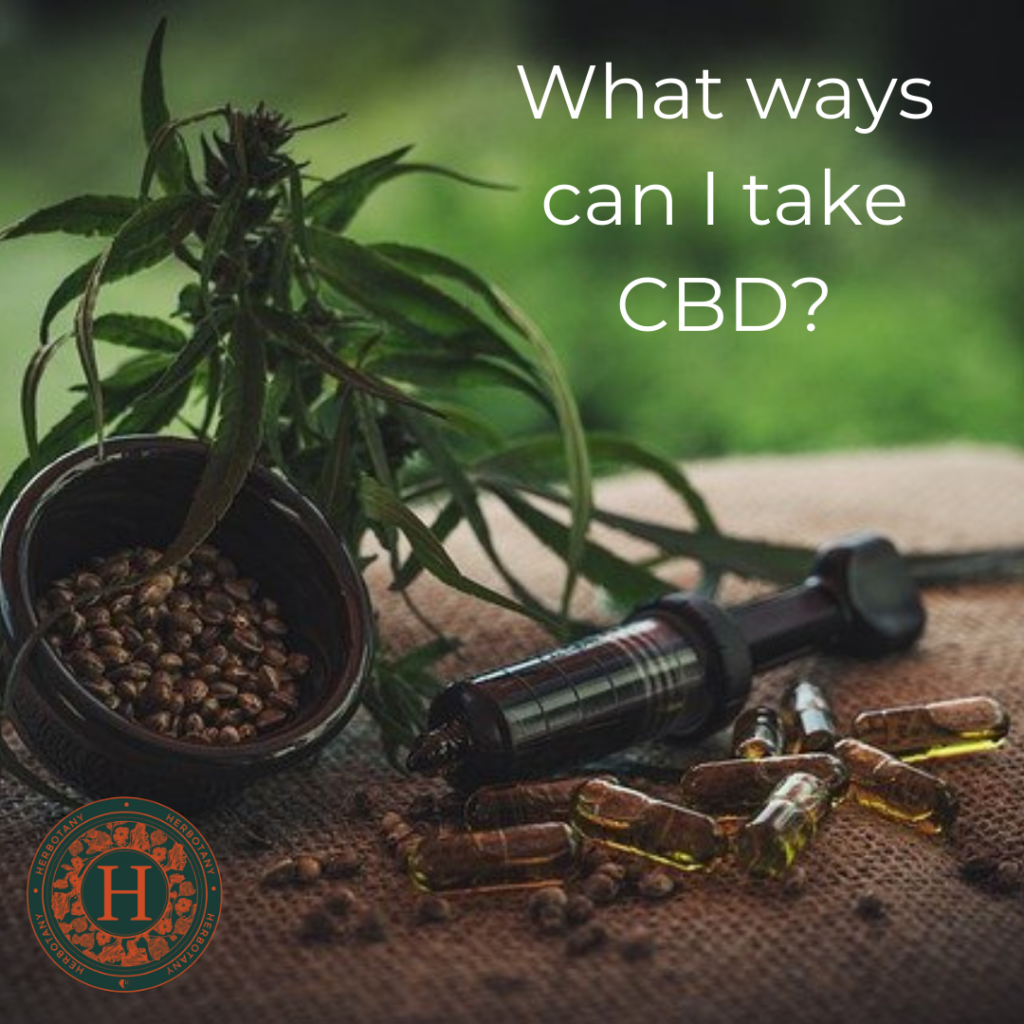 One of the greatest strengths of CBD (cannabidiol) is its versatility in how you can consume it as a supplement. CBD can be taken sublingually, orally, topically and also inhaled, so you can buy products to consume CBD in whichever way suits you best. What is CBD?
Whilst this is great for variation and ease of use, if you're new to CBD it can leave you feeling bewildered at times as to what is best for you due to all of the different options and products on offer.
Each method of consuming CBD comes with benefits and drawbacks and what you find is best for you will ultimately depend on your own tastes and preferences.
To help you to find your personal preference when taking CBD, we have put together a guide to try and help you navigate the market, and ultimately find your perfect CBD products.
Different ways to take CBD:
Sublingually
Sublingual application is where CBD drops are placed under the tongue, which is absorbed by the thin membrane in the bottom of your mouth and through into your bloodstream.
Consuming your CBD sublingually is one of the most effective methods as it enters your bloodstream quickly once absorbed, is easy to do yourself and does not require specialist equipment. For these reasons, sublingual application is the most commonly used method of consuming CBD by using CBD oils and sprays.
To consume a CBD oil product sublingually, simply fill up the dropper with CBD oil, lift your tongue and gently squeeze out the desired number of drops. Hold the oil underneath for 1-2 minutes to ensure maximum absorption, and then have a drink to wash down any oil remaining.
Orally
You can also consume your CBD through ingesting edibles orally. CBD edibles come in many different forms, from CBD capsules, to gummies, drinks, chocolates and pastes.
CBD edibles are a very popular form of taking CBD, as they come in pre-measured amounts and you simply take as many or as little as you need to reach your desired strength and effects.
When taking CBD capsules, take the desired number out of their container and swallow them with a drink. We would recommend eating shortly after you have consumed a CBD capsule, as they are fat-soluble, so your stomach is more efficient at digesting them if you have some food after consuming.
One of the key benefits of CBD capsules compared with CBD oils (sublingual), is that they are known to have longer lasting effects. As they are ingested, the capsules are absorbed into the bloodstream at a much slower rate. This does however mean that it can take longer for you to feel the effects of the CBD, usually up to 1-2 hours.
Topically
Topically applying CBD is something that has been done for centuries by ancient civilisations and the modern world alike. Topical products come in many different forms such as balms, roll-ons, ointments, oils and salves, with all of them normally enriched in CBD and essential oils to take care of your skin whilst also absorbing CBD.
The skin is the largest organ in the human body and is full of endocannabinoid receptors, so topically applying your CBD products is a great way to administer CBD whilst also taking care of your skin.
Topical application is a very popular form of taking CBD, as you can apply the CBD to any body part you choose, with concentrated effects. Good quality topical products often have oils, butters, waxes and extra nutrients in the formulation to benefit the skin.
Topical products should be used for more targeted application. The bioavailability (how well it absorbs) of topicals does not reach the general levels of sublingually or oral methods.
Inhalation
A growing trend in vaping is the use of CBD e-liquid vapes to consume CBD.
Consuming CBD through vaping is a very accessible way to consume CBD and has appealed to a huge market as it is discreet, readily available and you can take hits throughout the day whenever you need them.
Inhaling CBD through vaping is the quickest way for it to get to your bloodstream as it is absorbed quickly, however it does mean that the effects do not last for as long as sublingually or orally consuming CBD.
Conclusion
When you are choosing the right CBD products for you, you should consider aspects such as bioavailability, your budget, strength of the product, and also your desired effects of taking CBD.
The CBD market is growing every day and the variety of products available now is huge and only likely to grow. Ultimately, you should always ensure you are buying your CBD products from a company that is trustworthy and fully compliant, and always look at the certificate of analysis of a product before purchasing to ensure that it is safe for you to consume.
Whatever products you decide to choose, start off with small amounts if you are unsure and slowly increase your dosage until you reach a level you are happy with; your "CBD equilibrium". See Herbotany Health's full product range here.